The AEK-918G is a Russian submachine gun, it differs many from the common AEK-918, that is a machine pistol.
Description
Edit
Despite the identical identification and the same cartridges (9x19) used for fire, this submachine gun presents the independent type of weapon.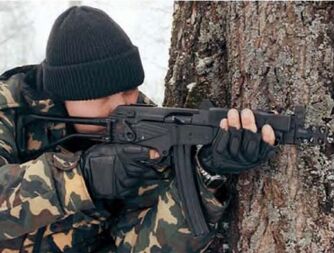 The AEK-918G is developed according to the "conventional" configuration with arrangement of the magazine in front of the trigger guard. The submachine gun is the blowback operated weapon. The application of the balanced configuration and the use of the muzzle break-compensator permitted to enhance stability of the weapon and low dispersion shot pattern in automatic mode of fire.
The firing mechanism of the hammer type enables the firer to deliver single-shot and automatic fire as well as to fire a three-shot bursts. The need to cut off the bursts due to the extremely high rate of fire was necessary if only because the three-shot burst takes a little more than 1/10 of a second. When the safety device is placed in its "safety" position then the groove intended for passage of an operating handle arranged to the right is blocked.
The weapon is fed from the 30-round box arc-shaped magazine. The local 7N21 cartridge as well as the foreign made 9x19 Parabellum cartridge may be used for delivering fire. The iron sight is fitted with a tumbling backsight.
The cold stamping from cast materials following subsequent welding and high-strength cast plastics were extensively used in production of many parts of the weapon. The submachine gun features a skeleton-type folded to the right stock.
Specifications
Edit
Cartridge: 9x19 Parabellum, 7N21
Weapon weight without cartridges: 2.65 kg
Weapon length:

With removed stock: 425 mm
With extended stock: 660 mm

Barrel length: 180 mm
Bullet muzzle velocity: 500 (7N21) m/sec
Rate of fire: 1,500 rds/min
Effective rate of fire with three shot bursts: 100 rds/min
Sighting range: up to 200 m
Magazine capacity: 30 rounds
Ad blocker interference detected!
Wikia is a free-to-use site that makes money from advertising. We have a modified experience for viewers using ad blockers

Wikia is not accessible if you've made further modifications. Remove the custom ad blocker rule(s) and the page will load as expected.