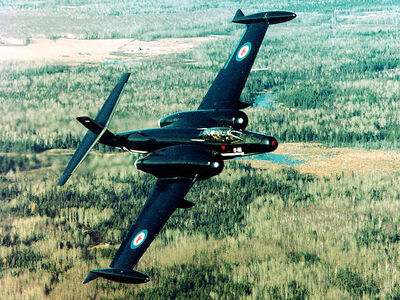 The
Avro Canada CF-100 Canuck
was a Canadian fighter jet employed between 1952 and 1981. This was the only game designed in Canada to be mass-produced .
The CF-100 is not considered supersonic. Therefore could not exceed the speed of sound in level flight.
692 aircraft were produced in different variants, and 53 units were exported to Belgium. His successor, CF-105 Arrow, also designed in Canada, was canceled in 1959 by a controversial decision by the government, the CF-100 isn't under operation, however he still can be seen in Canadian museums.
Operators
Edit
Specifications
Edit
General Characteristics
Edit
Crew: 2, pilot and navigator
Length: 16.5 m (54 ft 2 in)
Wingspan: 17.4 m (57 ft 2 in)
Height: 4.4 m (14 ft 6 in)
Wing area: 54.9 m² (591 ft²)
Empty weight: 10,500 kg (23,100 lb)
Loaded weight: 15,170 kg (33,450 lb)
Powerplant: 2× Avro Canada Orenda 11 turbojets, 32.5 kN (7,300 lbf) each
Performance
Edit
Maximum speed: 888 km/h (552 mph)
Range: 3,200 km (2,000 mi)
Service ceiling: 13,700 m (45,000 ft)
Rate of climb: 44.5 m/s (8,750 ft/min)
Wing loading: kg/m² (lb/ft²)
Thrust/weight: 0.44
2 wingtip pods of 29 x 70-mm (2.75 in) "Mighty Mouse" fin-folding aerial rockets
Ad blocker interference detected!
Wikia is a free-to-use site that makes money from advertising. We have a modified experience for viewers using ad blockers

Wikia is not accessible if you've made further modifications. Remove the custom ad blocker rule(s) and the page will load as expected.