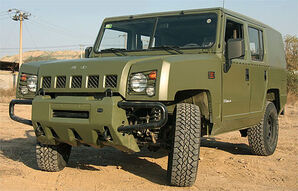 The
BJ-2022 Brave Warrior
is a High Multi-Purpose Vehicle created by Beijing Automobile Works for the
People's Liberation Army
, the Brave Warrior is the Chinese version of the multi-porpose vehicles as the
Dingo 2
and the
Humvee
.
Description
Edit
The BJ2022 0.5t light utility vehicle has been developed by Beijing Automobile Works (BAW) for command and liaison roles. The PLA issued the initial bid for a successor to its BJ2020S series vehicles in 1999, and BAW was chosen from ten contenders in 2002 as the contractor to develop the next generation light utility vehicle.
BAW revealed its BJ2022 Brave Warrior design in 2005. Following a three-year trial by the PLA, the vehicle was approved for serial production in 2007. The first production variant rolled out in August 2007, and the delivery to the PLA commenced shortly after.
The BJ2022 is a four-wheel driven vehicle designed with strong off-road traveling capability. The vehicle is available in two versions: the standard five-seat version and the eight-seat long wheelbase version. The body of the vehicle is fitted with a removable roof over a supporting frame. There are six hoist rings for sling under the helicopter. The vehicle also has the option to be fitted with a front- or rear- electronic winch for self recovery.
The vehicle is powered by a liquid-cooled, 3.152-litres, turbo-charged diesel, providing 101.5 kW at 3600 r/min, and generating 313Nm torque at 2000 r/min. The manual gear box has five forward gear and one reverse gear. The engine can start within 10~20 seconds at -30°C, or 30~45 seconds at -40°C. The vehicle has a 85-litre main fuel tank and a 18-litre auxiliary tank. The maximum range is 1,000 km.
The vehicle has a dual satellite navigation system (GPS and GLONASS) and group radio communication system. It has the posts to fit two radio antennas. Different electronic or communication systems are connected via a data bus. The onboard power supply is 12/24V.
Specifications
Edit
Seating: 1+4 (BJ2022JC), or 1+7 (BJ2022JLC) Configuration: 4X4 Weight (empty): N/A Maximum load: 500 kg or 750 kg Towed load: 500 kg or 750 kg Dimension: N/A Wheel base: 2,600mm (BJ2022JC); 2,800mm (BJ2022JLC) Track (front/rear): N/A Maximum road speed: N/A Gradient: 40% Fording: 0.60m Fuel capacity: 85 litre (main) and 18 litre (auxiliary) Maximum range: 1,000 km Engine: Liquid-cooled, 3.152 litre, turbo charged diesel
Ad blocker interference detected!
Wikia is a free-to-use site that makes money from advertising. We have a modified experience for viewers using ad blockers

Wikia is not accessible if you've made further modifications. Remove the custom ad blocker rule(s) and the page will load as expected.