The Chengdu Zhi-10 is the Chinese main combat helicopter, he is supposed to be in the some age of the South African Denel AH-2 Rooivalk and the Mil Mi-28 Night Hunter.
Description
Edit
The Zhi-10 (Z-10) attack helicopter has been developed by Changhe Aircraft Industries Group (CAIG) and China Helicopter Research and Development Institute (CHRDI), both based in Jingdezhen, Jiangxi Province. Another PRC helicopter manufacturer, Harbin Aircraft Manufacturing Company (HAMC), may have also be involved in the development programme.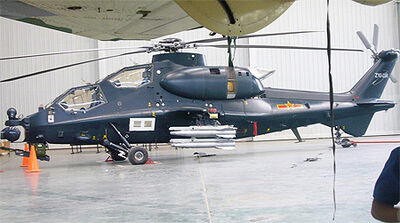 The Z-10 is thought to be in the same class as the Agusta A-129, South African Rooivalk, and German Tiger. Its primary mission is anti-armour and battlefield interdiction, with a secondary capability for air-to-air combat. The helicopter first flew on 29 April 2003. A small number of prototypes have been undergoing test and evaluation.
The PRC began to develop a dedicated attack helicopter in the mid-1990s. AVIC II, the parent company of CAIG and CHRDI, has been working with European partners on a common helicopter dynamic system, which can be used on both the proposed medium helicopter and the attack helicopter. However, no foreign firm has been directly involved in the Z-10 development.
The helicopter is powered by two Pratt & Whitney Canada PT6C-67C turboshaft engines. The PRC will need to obtain the engine production license, or develop an alternative engine before the serial production of the helicopter can begin.
Internet source photos revealed that the Z-10 has a conventional attack helicopter layout, with the pilot and weapons operator seated in tandem, stepped cockpits. The helicopter has a five-blade main rotor and a four-blade tail rotor. Two engines are podded to the helicopter just to the rear of the cockpit. The fuselage has a sloped side to reduce its radar cross section (RCS), and is slender and tapered to the rear, with fixed landing gear. The tail boom tapers to the rear, with a high, swept-back fin with square tip. The flats are unequally tapered with a square tip, while the belly fin has the rear landing wheel attached. The tail rotor is mounted on the right side.
The helicopter is thought to be fitted with a 'fly-by-wire' (FBW) control system, and a modern glass cockpit with multifunctional display (MFD) screens. The helicopter crew may also be equipped with a helmet-mounted sight (HMS) for head-up display of information and weapon control.
The helicopter is fitted with a cannon (23mm?) mounted under the nose. Two stub wings provide four hard points for external ordonance. A new-generation anti-tank guided missile (ATGM) HJ-10 is currently in development. The missile is believed to be comparable to the U.S. AGM-114 Hellfire. The helicopter can carry up to eight missiles under the stub wings for anti-armour role. Alternatively, the helicopter can carry unguided rocket pods for ground attack, or TY-90 short-range air-to-air missiles for air combat.
Electronic Equipments
Edit
An observation unit consisting of a forward looking infrared (FLIR) and a low-light television is mounted on a steerable platform at the nose of the helicopter. The electronic countermeasures (ECM) suite consists of radar warning receiver (RWR), laser warning receiver, infrared jammer and chaff / flare decoy dispenser.
The Z-10 is powered by two Pratt & Whitney Canada PT6C-67C turboshaft engines with Full Authority Digital Engine Control (FADEC). The engines have a maximum continuous power of 1,531 hp (1,142 kW) each.
Specifications
Edit
General Characteristics
Edit
Crew: 2
Length: 14.15 m (ft)
Rotor diameter: 13.0 m (ft)
Height: 3.85 m (ft)
Empty weight: 5,540 kg (lb)
Loaded weight: 7,000 kg (lb)
Useful load: 1,500 kg (lb)
Max takeoff weight: 8000 kg (lb)
Performance
Edit
Powerplant: 2× WZ-9 turboshaft, 957 kW (1285 shp) each
Maximum speed: 300+ km/h
Cruise speed: 270+ km/h
Ferry range: 800+ km ()
Service ceiling: 6,400 m (ft)
Rate of climb: over 12+ m/s (ft/min)
Guns: 23 mm or 30 mm autocannon mounted on chin turret with grenade launchers, or 14.5 mm Gatling gun
Hardpoints: 4
Rockets: 57 mm, 90 mm multi-barrel unguided rocket pods
Missiles:
YH millimetre-wave fire-control radar
YH-96 electronic warfare suite
Ad blocker interference detected!
Wikia is a free-to-use site that makes money from advertising. We have a modified experience for viewers using ad blockers

Wikia is not accessible if you've made further modifications. Remove the custom ad blocker rule(s) and the page will load as expected.