Daewoo XK-8
Comments

0
1,547pages on
this wiki
The Daewoo XK-8 also known as DAR-21 was a South Korean bullpup assault rifle intended to replace the Daewwo K2, however his project was rejected by the South Korean military.
Description
Edit
The Daewoo XK8 assault rifle (also known as the DAR-21) was developed to replace the previous
Daewoo K2
in service with the
South Korean Armed Forces
. It was revealed in 2003. Unfortunately this weapon was not accepted to service and was not produced in quantity.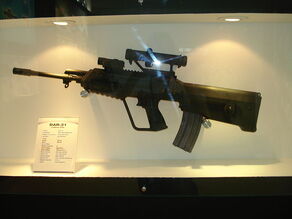 It is a gas operated, selective fire assault rifle with bullpup design, chambered for the standard NATO 5.56x45mm ammunition. Housing of this weapon is made of polymers.
The Daewoo XK8 is not fully ambidextrous because of it's design limitations. There is only one spent case extraction port on the right side. The cocking handle is located on the left side.
The fire mode selector is located well behind the magazine. It has single shots, three round burst and full-auto modes. Enlarged triggerguard of this assault rifle allows to fire wearing winter gloves.
The Daewoo XK8 is fed from the standard NATO (M16-type) magazines, holding 30 rounds. It is also compatible with older 20-round magazines.
The Daewoo XK8 comes with a 3x magnification scope and laser pointer, mounted on a Picatinny-type rail. It's laser pointer emits either visible or infrared beams. Other sights may be fitted. A claimed effective range of fire is 600 m.
Some sources report that a shortened carbine version of this rifle was also developed.
Specifications
Edit
Weight: 3.8kg
Lenght: 780mm
Barrel Lenght: 508mm
Muzzle Velocity:
Cyclic Rate of Fire: 800rpm
Pratical Rate of Fire: 40-120rpm
Feed System: 30 rounds dechatable box magazine
Range: 600m