The EE-17 Sucuri is an armored vehicle fighting developed by Engesa at Brazil.
Description
Edit
Its primary function was to hunt tanks or antitank vehicle. It was developed during the period of great development has gone through the Brazilian military industry during the 80s, several projects were presented by Brazilian companies, among which stood out clearly ENGESA S. José dos Campos (SP).
A company produced the EE-9 Cascavel armored vehicles personnel carriers and armored reconnaissance Cascavel, equipped with 90mm cannon in slow speed.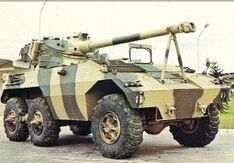 With emerging markets in mind, but also with the possibility of orders from the Brazilian army to a more powerful vehicle than the Cascavel but with great mobility, ENGESA drew a
national battle tank
and an armored vehicle but relatively unprotected well armed, capable of engaging the most powerful vehicles of surprise and use his speed to escape from being destroyed, the Sucuri.
Initially the Sucuri should be equipped with a tilting tower FL-12 that used the vehicle AMX-13 Panhard EBR, with a 105mm cannon.
Later, because the French tower was considered complex, expensive, and because of the difficulty faced by Engesa to sell the vehicle, it was decided by ENGESA to build a tower of his own, which also led to an exchange of cannon on the other, of Italian origin and based on L-7 cannon 105mm. With this new cannon, the Sucuri-II now had chance to shoot the arrow piercing ammunition, which was most effective against armored vehicles, even heavy armored vehicles.
The new tower was eventually result in a complete redesign of Sucuri transforming it into a vehicle far superior to its predecessor. With a new lower profile and better ballistic profile front. The new tower was also the result of studies Engesa for the vehicle he was studying at the moment, the medium tank EE-T1 Osorio. For a vehicle designed in the mid 80s, the Sucuri was very well equipped with periscopes for commander and gunner and a laser rangefinder, spinstabilized cannon, which can make searching for targets when the vehicle is in motion.
The new engine, along with the new tower, reduced weight of Sucuri-II to 18 tonnes or 500 kg. Unless the 18500 kg the initial model of Sucuri.
The Sucuri-II could be assisted very easily and its engine was easy to remove.
He was but a landmark in the Brazilian military industry, because while with the other vehicles to Brazil merely copy concepts and ideas from other countries, with Sucuri-II - a light tank on a 6x6 platform - there was an attempt to innovate that was not completely novel, was at least the idea that this type of vehicle might be successful in the future, at least for the conditions of Latin America as a replacement of the vehicle of the EE-9 Cascavel.
Weapons and Armour
Edit
EE-18 was equipped with a cannon fully giroestabilizado L7 105mm made under license by Otomelara, which can fire ammunition standard NATO can penetrate 150 mm armor to 5000 meters range. The secondary armament consists of a machine gun and 12.7 mm caliber and one 7.62 mm coaxial machine gun. The vehicle is equipped with a modern system of firefighting. It's armor hull and turret are welded composite armor. Shielding protects against frontal shots of 20-25mm and against small arms fire and shrapnel from artillery just around the whole vehicle. NBC protection system was not offered as standard. The crew is composed of four people entering and leaving through a back door which also serves to load the ammunition.
Specifications
Edit
Dimensions
Edit
Length: 7.75m
Height: 2.59m
Width: 2.8m
Weight: 18.5 tons
Performance
Edit
Engine: Saab-Scania DSI-11 diesel
Engine Power: 380 hp
Max Speed: 105 km/h
Ad blocker interference detected!
Wikia is a free-to-use site that makes money from advertising. We have a modified experience for viewers using ad blockers

Wikia is not accessible if you've made further modifications. Remove the custom ad blocker rule(s) and the page will load as expected.