The EE-3 Jararaca is an armored reconnaissance vehicle developed by Engesa at Brazil. It is a light vehicle on wheels for 4x4 patrol and reconnaissance. It was exported to some countries, but never operated in Brazilian Army.
Description
Edit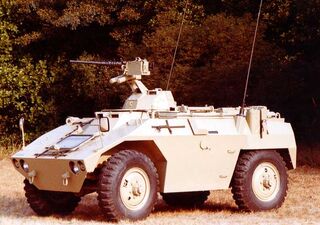 The idea of producing a light armored vehicle 4x4 for the
Brazilian Army
wasn't new, it dates from the early '70s, when the idea first emerged in the Regional Park of mechanization of the 2nd Military Region of São Paulo.
It would be a way to replace the old Jeep as a vehicle for exploitation in the mechanized cavalry units, given their vulnerability and total absence of shielding. Thus arises the design called EE-Jararaca 4x4.
As the company ENGESA had started another project whose implementation was already in the process of building a prototype, called Brazilian Armored Car (which should be the replacement of the old M8 Greyhound, from the Second World War), the project EE-3 jararaca ended up not going ahead, for the simple reason of being a 4x4 and the Army wanted a 6x6, a result of that learning, giving rise to a new project, building a prototype, which was later produced in series in partnership with the private company Engesa S / A, became an industry icon of defense material known under the name Brazilian EE-9 Cascavel.
The success of the vehicle (EE-9 Cascavel) within Army units and its market acceptance, international made it very difficult to accept a 4x4 light armored vehicle, and somehow this is affecting us until this day, although some companies have made 4x4 wheeled armored none have been approved and purchased.
The idea was to produce a vehicle (EE-3 Jararaca) of great mobility, 4x4, equipped with machine guns outside 7.62 mm or 12.7 mm (.50) a revolving armored turret in its default configuration, equipped with four launchers of smoke grenades. Other versions may employ anti-tank missiles like Milan. The crew consists of driver, a commander and a gunman. The diesel engine was put back, and mechanical transmission of five speeds forward and one aft.
Being extremely compact, its maximum weight was around 5800 kg, with a range of 700 km, with 140 liters of diesel, top speed of 100 km and can climb slopes of 60% and maximum lateral inclination of 30%, to overcome obstacles vertical 400 mm, and may go into beams of 800 mm.
The mechanical parts of Jararaca were all derived from the national automotive industry, used in trucks, which facilitated the logistics of spare parts. Its engine was a Mercedes Benz.
Like Engesa was well ahead of its time, it came to produce some new models, from Jararaca for export. The Brazilian army itself does not use any, though in possession of two prototypes, one for reconnaissance and for a chemical war.
The concept is still current and would be a good utility for military and police forces in Brazil within the new reality of urban combat. However the Jararaca itself is not a good vehicle, and received several criticisms from countries that use it, as well as ENGESA's own engineers.
Operators
Edit
Uruguay: 16 Vehicles
Guinea: 10 Vehicles
Gabon: 12 Vehicles
Ecuador: 10 Vehicles
Cyprus: 15 Vehicles
Specifications
Edit
Entered service
?
Crew
3 men
Dimensions and weight
Weight
5.8 t
Length
4.16 m
Hull length
4.16 m
Width
2.23 m
Height
1.56 m
Armament
Machine guns
1 x 12.7-mm
Mobility
Engine
Mercedes-Benz OM 314A
Engine power
120 hp
Maximum road speed
100 km/h
Range
700 km
Maneuverability
Gradient
60%
Side slope
30%
Vertical step
0.4 m
Trench
0.5 m
Fording
0.6 m
Ad blocker interference detected!
Wikia is a free-to-use site that makes money from advertising. We have a modified experience for viewers using ad blockers

Wikia is not accessible if you've made further modifications. Remove the custom ad blocker rule(s) and the page will load as expected.