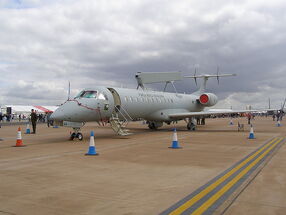 The
Embraer EMB-145 AEW&C
or
AWACS
(English Airborne Early Warning and Control) or E-99, is an aircraft Airborne Early Warning and Control with capacity for independent monitoring and air traffic control. Designed to meet the operational requirements of
Brazilian Air Force
(FAB), for an aerial surveillance aircraft, capable of providing intelligence data on aircraft flying at low altitude, specially in Brazilian Amazon, doing missions in support of SIVAM.
Historical development
Edit
Project SIVAM
Edit
Aiming to curb illegal activities and provide data to SIPAM (Amazon Protection System), was established by the Brazilian Government, through the Ministry of Aeronautics, SIVAM (Amazon Surveillance System), which employs the means for collecting, processing and dissemination of data on Amazon, Intending to promote sustained development of this region.
For this, the SIVAM has a network of radars surface, responsible for monitoring the airspace Amazon, which operate both in flight safety over the forest, such as surveillance and border control. One concern is the system's coverage of air traffic flying at low altitude. An aircraft flying below 10,000 feet (3,000 meters), is a regular flight or illegal, there will gaps in coverage of the radars.
To address these situations, Brazilian Air Force (FAB), would involve aerial surveillance aircraft, specially developed for this purpose, supplementing the data produced by equipment installed on land.
E-99 aircraft
Edit
Hired to develop the new aircraft, Embraer initially made use of his model turboprop EMB-120 Brasilia, Which was subjected to work towards their qualification as a platform for integration with the radar Erieye (selected for the AWACS system).
However, the delay of almost two and a half years for the contract of SIVAM (scheduled for early 1995, its implementation took place only on July 25, 1997) added to the restrictions set by the cell of the EMB-120 Brasilia, did with which the aircraft were replaced by jet ERJ-145 At the time, recently launched in the market.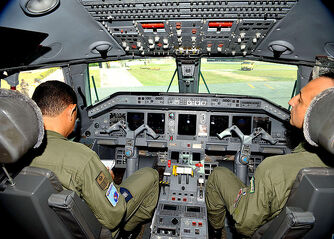 This jet, designed for regional routes, presents a structural design capable of withstanding high frequency use, and may surpass 2,800 hours of flying per year. Their internal systems as well as control of the engines, and have double redundancy, which gives the ERJ-145 high percentage of availability for missions.
On the instrument, the ERJ-145 panel displays an all-digital, the avionics systems are Primus 1000, consists of five main displays on LCD screens, interchangeable, two PFD (Primary Flight Displays)Two MFD (Multi-Function Displays) and an EICAS (Engine Indication and Crew Alerting System). Its engines are fitted with FADEC (Full Authority Digital Engine Control), Which allows for automatic starting with a complete application performance management.
To fulfill the missions AEW & C, the cell's ERJ-145 received structural reinforcement at the top of the fuselage needed to house the radar antenna Erieye; increased winglets ("Fold" wingtip to improve aerodynamics, delivering improved fuel economy and range) increased fuel capacity over the civilian version; APU (Auxiliary Power Unit) more powerful, new communication systems and navigational system data link Datalink; Sensors monitored for signs of clandestine communications; Islands command and control (Workstations), among other equipment.
The maiden flight of the EMB-145 AEW & C (formerly known as R-99A by FAB, Passed in 2008 to work with the designation E-99.)[1] occurred on May 22, 1999, with the first operational test of the radar Erieye happening on January 25, 2001.
On July 24, 2002, were delivered to the Air Force the first three E-99 (out of five) that were intended for 2/6 GAv (2nd Squadron 6th Aviation Group), headquartered in Anapolis Air Base and can be moved quickly, at any point of Brazilian territory, in cases where their capacity for surveillance and air traffic control becomes necessary.
In late 2003, the Company conducted a series of experiments involving a prototype of the ERJ-145, and a KC-130 FAB, in order to provide the EMB-145 AEW & C system with air refueling.
The 2°/6° GAv entitled Squadron Guardian, held between 23 and 25 August 2004, the first tests of interconnection between radio system Datalink Between one R-99 and three A-29 Super Tucano COIN aircraft, Completing the full operational stage of development of this aircraft for aerial surveillance.
Radar Erieye
Edit
Key Features
Edit
The main sensor of the EMB-145 AEW&C is on the multi-role radar Ericsson PS-890 Erieye, antenna flat type scanning electron active, characterized by not depend on the swivel 360 degree aerial search, common to other radars of airborne surveillance.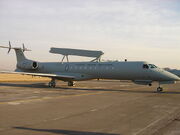 Installed on the fuselage of the aircraft, the radar antenna Erieye contains in its interior, 192 auto-addressable modules transmit and receive signals, allowing the tracking of aircraft with smaller dimensions, or even cruise missile ships. Your e-beam, quick steering, gives operators the ongoing monitoring of the target detected, and the ability to manage multiple targets simultaneously.
At an altitude of 25,000 feet (7620 meters), is its ability to scan more than 350 km around the aircraft, which can display up to 300 air traffic. Opera in the S band, suffering less attenuation by the atmosphere, have the ability to change its frequency automatically when electromagnetic interference is suffering purposeful (Jamming).
Sensors and embedded systems of the EMB-145 AEW & C makes it able to act in a wide range of missions, including: command and control, surveillance and border control, maritime surveillance, monitoring of communications signals, coordination of search operations and rescue; vectoring fighter and air space management.
EMB-145 AEW&C of the Indian government - this variant is under development, it must have his own AWACS system, with the co-participation of Indian institution DRDO (Defence Research and Development Organisation).
Specifications
Edit
General Characteristics
Edit
Wingspan: 21.00 m
Length: 29.87 m
Height: 6.75 m
Maximum Takeoff: 24,000 kg
Maximum payload: n/d
Crew: 2 (pilot and copilot) + 6 system operators
Performance
Edit
Maximum speed: Mach 0.78
Range: n/d
Service ceiling: 11,278 m
Range: +6 H (On station)
Max scanning radar: +350 km
Distance from takeoff / landing: 2,270 m (MTOW) / 1345 m
Propulsion
Edit
Engine: 2 turbofans Rolls-Royce AE 3007A1s of 3368 kgf of thrust per unit, with FADEC
Systems and equipment
Edit
Ericsson Erieye PS-890 (radar surveillance and air traffic control)
SSR/IFF (secondary radar identification friend-foe)
ESM system (electronic support measures) (optional)
COMINT/ELINT (monitoring sensors communications signals)
Datalink (System of transmitting and receiving secure data)
RWR/flare & chaff (Self-defense systems) (optional)
Refueling system (optional)
Operators
Edit
Brazil: 5 aircraft
Greece: 4 aircraft
Mexico: 3 aircraft
India: 3 aircraft (variant under development)
Airborne Early Warning and Control
References
Edit
↑ Guardian Squad History. Retrieved on September 10, 2009.
External links
Edit