The Embraer EMB-312 Tucano is one of the most successful aircraft of Embraer. Several hundred of these aircraft were sold to many countries and among its users is the Royal Air Force.
Description
Edit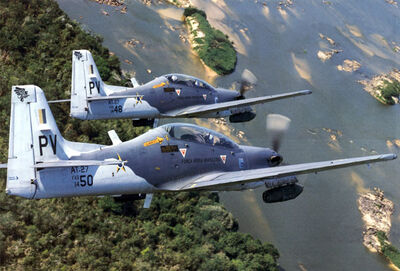 The EMB-312 Tucano is a low-wing monoplane, medium-advanced training, which began to be drawn in 1978 seconds specification of the Brazilian Air Force.
The version for the RAF is equipped with Garrett TPE331 engine. Either Britain or Egypt, this aircraft manufactured under license from Embraer
This type of plane appears as replacement of the smallest and oldest trainer aircraft assembled by Embraer and other aeronautical industry during the '70s. The EMB-312 is designed to allow the use of latest technologies, should be a basic trainer to become an advanced trainer.
The EMB-312 was an export success, being sold and manufactured under license in several countries like Great Britain, Egypt and France.
The EMB-314, the evolution of the EMB-312, is a larger and more sophisticated, and others were bought by the Brazilian Air Force.
Operators
Edit
Angola
Argentina
Brazil
Colombia
Dominican Republic
Egypt
England
France
Guatemala
Honduras
Iran
Iraq
Paraguay
Peru
Venezuela
Specifications
Edit
General characteristics
Edit
Crew: 2
Length: 9.86 m (32 ft 4 in)
Wingspan: 11.14 m (36 ft 6 in)
Height: 3.4 m (11 ft 2 in)
Wing area: 19.4 m² (209 sq ft)
Empty weight: 1,810 kg (3,990 lb)
Loaded weight: lb (kg)
Useful load: lb (kg)
Max takeoff weight: 3,175 kg (7,000 lb)
Powerplant: 1× Pratt & Whitney Canada PT6A-25C turboprop, 560 kW (750 hp)
Performance
Edit
Maximum speed: 458 km/h (247 kt)
Cruise speed: 347 km/h (187 kt)
Stall speed: 67 kt (km/h)
Range: 1916 km (1035 NM)
Service ceiling: 9,150 m (30,000 ft)
Rate of climb: 2600 ft/min (13.20 m/s)
Wing loading: 164 kg/m² (33.5 lb/ft²)
Power/mass: 0.11 hp/lb (0.18 kW/kg) ()
Guns: 12.7 mm (pod mounted on wing pylons)
Rockets: Unguided rocket pods may be mounted on wing pylons.
Bombs: May be mounted on wing pylons.
Other: 4 under-wing pylons, total capacity 1,000 kg (2,200 lb)
Ad blocker interference detected!
Wikia is a free-to-use site that makes money from advertising. We have a modified experience for viewers using ad blockers

Wikia is not accessible if you've made further modifications. Remove the custom ad blocker rule(s) and the page will load as expected.