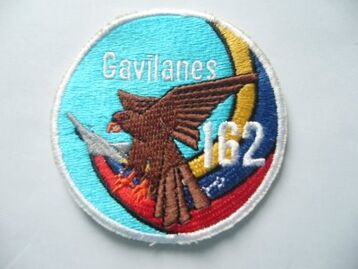 The
Escuadrón de Caza 162,
Callsign
Gavilanes
(In English: Fighter Squadron 162 Callsign
Hawk
) is a squadron of
Venezuelan Air Force
that operates from Base Aérea Libertador/Palo Negro.
Actually they are subordinated to the Grupo de Caza No. 16 ''Dragones''
Aircraft Used
Edit
Type
Qty
Service
Example Serials
GD F-16A/B Fighting Falcon
18/6
1983–Present

0051,0094,0220,0678,1041,1715,2179,

2337,3260,3648,4226,4827,5422,6023,

6426,6611,7268,7635,8900,8924,9068,

9581,9583,9864
Ad blocker interference detected!
Wikia is a free-to-use site that makes money from advertising. We have a modified experience for viewers using ad blockers

Wikia is not accessible if you've made further modifications. Remove the custom ad blocker rule(s) and the page will load as expected.