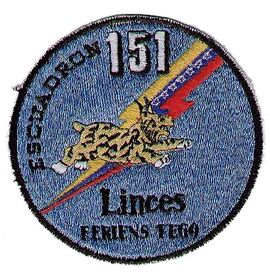 The
Escuadrón de Operationes Especiales 151,
Callsign
Linces
(In English:
Squadron of Special Operations 151
, Callsign
Linx)
is a squadron of the
Venezuelan Air Force
. The unit was formed on April 14, 1975 when the
Escuadrón de Bombardeo 40
with
OV-10E Bronco
was relocated from
Base Aérea Valle Garcia
at Barcelona and became Escuadrón de Operaciones Especiales 151. In the late 1990s the
AT-27
were relocated back to Escuadrón de Operaciones Especiales 152 and all OV-10 operations were concentrated in this squadron.
Currently the Lince Squadron operates in the Base Aérea Urdaneta in the city of Maracaibo.
Aircraft Used
Edit
Type

Qty

Service

Example Serials

19/16

1973–Present

0016,0068,0073,0076,0077,0194,0431,

0502,0540,0607,0690,1103,1367,1863,

1990,2312,2641,2865,3037,3923,4035,

4159,4523,5011,5021,5709,5897,6280,

7435,7970,8578,9004,9494,9744,9988

1
2009–Present

n/a
Ad blocker interference detected!
Wikia is a free-to-use site that makes money from advertising. We have a modified experience for viewers using ad blockers

Wikia is not accessible if you've made further modifications. Remove the custom ad blocker rule(s) and the page will load as expected.