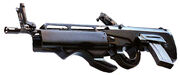 The
FAD
(Spanish:
Fusil Automático Doble
, Dual automatic rifle) Assault Rifle is a Peruvian lighweight, bullpup
Assault Rifle
with Straight Blowback, Closed bolt. It was designed by Salomón Braga Lozo of SIMA Electronica and is in pre-production since 2008.
Specifications
Edit
Weight: 3.6 kg (7.94 lb)
Length: 814 mm (32.0 in)
Barrel length: 508 mm (20.0 in)
Cartridge: 5.56x45mm NATO
Caliber: .223
Action: Straight Blowback, Closed bolt, Recoiling barrel
Rate of fire: 550 rounds per minute
Muzzle velocity: 963 m/s (3,159 ft/s)
Effective range: 600 m
Maximum range: 1,600 m
Feed system: 30 round STANAG magazine
Sights: Iron, EOD sight,
Ad blocker interference detected!
Wikia is a free-to-use site that makes money from advertising. We have a modified experience for viewers using ad blockers

Wikia is not accessible if you've made further modifications. Remove the custom ad blocker rule(s) and the page will load as expected.