The FN FAL (Fabrique Nationale Fusil Automatique Leger - National Factory, Light Automatic Rifle) Is an assault rifle originally designed and produced by the company Belgian Fabrique Nationale in Helstal.
The FN FAL ( Light Automatic Rifle ) is one of the drawings rifle military 's most famous and used in the world, developed by Belgian company Fabrique Nationale, Is manufactured by at least 10 countries, including Brazil and Jamaica. His days of service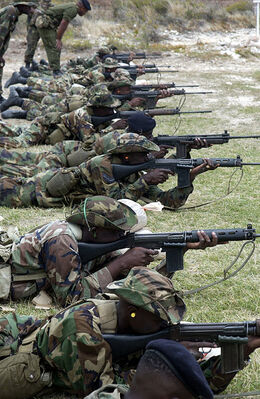 are up, but it is still widely used in many parts of the world, mainly in Brazil. The history of the FAL began circa 1946, when FN began to develop a new assault rifle. Using cartridge Intermediate German 7.92 X33mm. The project was led by team
Dieudonne Saive,
at the same time worked on the rifle
SAFN-49
. Therefore not surprising that both are mechanically very similar. In late 1940 the engineers Belgians were in the England and began using the 208 British cartridge (7,43 x43mm ) that is also an intermediate cartridge, but for further development.
In 1950 the Belgian and British engineers have created a prototype format bullpup EM -2 assault rifles were tested by these U.S. Army These prototype very impressed the Americans, but the idea of using an intermediate cartridge was not very well understood by Americans, who were still using semi-automatic rifles, the M1 Garand in caliber 6.30 and .308 Winchester and insisted that the NATO defaults to the high power cartridge T65 / 7.62 x51mm similar to .308 in 1953-1954. The FN FAL modified because of this standardization, the first PA 's were ready at 7.62 Belgium in 1953, but Belgium was not the first country to adopt the FAL rifle as standard the country that approved it was probably the Canada With slight modifications on the name C1, in 1955 Canadians began to produce the rifles C1 and C2, the latter a heavy barrel version, known in Brazil as FAP in 1957 the English army followed the Canadian example and adopted the FAL L1A1 with the name, which were usually supplied with optical sights 4x . Next was the Austria on behalf Stg.58 manufactured by Steyr. The FAL was adopted by Brazilian army in 1964.
Various versions of FAL were also adopted in Turkey, Australia, Israel, South Africa, West Germany and several other countries. The success of the FAL could be further improved if the FN had sold the production rights of the FAL for western Germany, where he was known as G-1, but FN has rejected the request, so that Germany bought out CETME Spanish With some modifications to Heckler & Koch created the HK G3, The most notable rival of FAL.
Techinical Description
Edit
The only deficiency is that the FAL in Firefox automatically, because the shots are spread much, but regardless, the FAL rifles is one of most well-known, reliable and precise, it is somewhat sensitive to sand thin and dust. But it is a great weapon . The only countries still producing the FAL is Brazil that are manufactured by Imbel on code M964 and surprisingly the USA where a number of private companies produce different versions and kit newly manufactured parts, the majority of SCA 's are limited to fire semi- automatic and available only for the civilian market. The FAL is operated gas, has a switch to fire from three positions : safety, semi- automatic and fully automatic fire . It is powered by the charger and uses a piston allocated above the gas pipe. The piston has its own spring recovery . After shooting the gas pushes the piston makes a quick tap on the transporter bolt, The rest of the operation is given only by inertia. The whole bolt, also has a gas regulator so it can be easily adapted to different environmental conditions, or to launch grenades nozzle securely. The system uses a locking bolt head locking tumbler with that slope back to the breech in the box that was made initially in steel wrought. But in 1973 began to test various types of metal fabrication in the breech of the box in order to reduce the production cost and weight, but manufacturing was attached to steel machined because of its tilting system that touches the case of breech.
During the time the FAL was produced in several versions, however there are four basic configurations of the FAL :
FAL 50.00, or simply with FAL butt sets made of plastic pipe and 533mm standard;
FAL 50.63, or Para- FAL with folding stock made of steel pipe with standard 431mm ;
FAL 50.64 with the butt and barrel version to 533mm, and the heavy barreled FAL 50.41 aka hbar FAL, FAP or SPEAK for shots such as automatic light weapon fire support .
FAL 50.41 (FALO): Also known as FAL hbar, plastic butt version, with heavy barrel and bipod, allowing some capacity for sustained fire, intended to be used as a weapon of collective support of elementary fractions infantry. Also called C2A1 (Canada), L2A1 (in some countries of Commonwealth) And FAP - Heavy Automatic Rifle (In Portuguese Fuzil Automatico Pesado) ; FAL 50.42 (FALO): equal to the FAL 50.41, but with butt wood
Operators
Edit
Angola
Argentina: Produced under license.
Australia: Produced under license.
Austria: Produced under license.
Bangladesh
Barbados
Belgium
Belize
Bolivia
Botswana
Brazil: Produced under license.
Burundi
Cambodia
Cameroon
Canada: Produced under license.
Chad
Chile
Colombia
Congo
Costa Rica
Cyprus
Democratic Republic of Congo
Djibouti
Dominican Republic
Ecuador
Fiji
Gambia
Ghana
Greece: Adopted the FAL and FALO under license by the Pyrkal factories before using Hellenic Arms Industry-made G3A3s. This move was due to lack of support by the Greek government on Pyrkal. It was in use with the Greek special forces and the IV Army Corps in the Evros region from 1973 to 1999. The FAL was replaced in 2000.
Guyana
Honduras
India: Produced under license.
Ireland: Used as the main rifle of the Irish Defence Forces from the early 1960s (starting with UN service in the Congo) until 1988 when it was replaced. Its usual furniture consisted of a timber stock and black synthetic handguard and pistol grip.
Israel: Produced under license.
Jamaica
Kenya
Kuwait
Lebanon
Libya
Luxembourg
Malawi
Malaysia
Malta
Mexico: Produced under license.
Morocco
Mozambique
Myanmar
Nepal
Netherlands: The Royal Netherlands Army adopted the rifle with bipod and no fully-automatic capability in 1961, being called Het licht automatisch geweer, but usually known as the 'FAL' in Dutch service. They had unique sights (hooded at the front) and the German style sheet metal front handguard. A sniper version, Geweer Lange Afstand, also existed and was standard with a scope of Dutch origin produced by the Artillerie Inrichtingen and without the bipod. The scope was introduced as Kijker Richt Recht AI 62. The heavy-barrel FAL 50.42 version was also adopted later as a squad automatic weapon as the Het zwaar automatisch geweer. This rifle was replaced in the 1990s.
New Zealand:
Nigeria: Licensed by DICON (Defence Industries Corporation of Nigeria) in Nigeria as the NR-1.
Oman
Panama
Papua New Guinea
Paraguay
Peru
Portugal: In 1960, the Portuguese Army issued quantities of light-barrel FN and West German G1 FAL rifles to several of its elite commando forces, including the Companhias de Caçadores Especiais (Special Hunter [Ranger] companies). The latter often expressed a preference for the lighter FAL over the Portuguese-manufactured version of the H&K G3 rifle when on ambush or patrol. In Portuguese service, the FN FAL was designated Espingarda Automática 7,62 mm FN m/962.
Rwanda
Saint Vincent and the Grenadines
South Africa: Produced under license. After a competition between the German HK G3 rifle, the Armalite AR-10, and the FN FAL, the South African Defence Force adopted three variants of the FAL: a rifle with the designation R1, a "lightweight" variant of the FN FAL 50.64 fabricated locally under the designation R2, and a model designed for police use not capable of automatic fire under the designation R3.

Sri Lanka: The Sri Lankan Army adopted the L1A1 SLR rifle in the 1970s to replace the bolt action Lee Enfield rifle and Sten sub-machinegun. It was widely used in the early stages of the Sri Lankan Civil War before being replaced by the AK-47 and Type 56 assault rifles.
Suriname
Swaziland
Syria
Tanzania
Thailand: Used by Royal Thai Police since the 1960s, designated "Rifle Type 05" (1962).
Togo
Trinidad and Tobago
Tunisia
Turkey: Used by the armed forces until the late 1960s, when it was replaced. However, the FAL remains in use as a training rifle.
Uganda
United Arab Emirates
United Kingdom: Built under licence
Uruguay
Venezuela: Produced under license.
West Germany
Yemen
Zambia
Zimbabwe
Specifications
Edit
Caliber: 7.62x51 NATO (.308 Winchester)
Action: Gas operated, tilting breechblock, select-fire or semi-auto only
Length
FAL 50.00 (fixed stock): 1,090 mm (42.9 in)
FAL 50.61 (stock extended): 1,095 mm (43.1 in)
FAL 50.61 (stock folded): 845 mm (33.3 in)
FAL 50.63 (stock extended): 998 mm (39.3 in)
FAL 50.63 (stock folded): 748 mm (29.4 in)
FAL 50.41 (fixed stock): 1,125 mm (44.3 in)
FAL 50.00: 533 mm (21.0 in)
FAL 50.61: 533 mm (21.0 in)
FAL 50.63: 436 mm (17.2 in)
FAL 50.41: 533 mm (21.0 in)
FAL 50.00: 4.3 kg (9.48 lb)
FAL 50.61: 3.90 kg (8.6 lb)
FAL 50.63: 3.79 kg (8.4 lb)
FAL 50.41: 5.95 kg (13.1 lb)
Magazine capacity: 20 rounds (30 rounds for heavy barreled SAW versions)
Rate of fire: 650-700 rounds per minute
Muzzle Velocity
FAL 50.00: 840 m/s (2756 ft/s)
FAL 50.61: 840 m/s (2,755.9 ft/s)
FAL 50.63: 810 m/s (2,657.5 ft/s)
FAL 50.41: 840 m/s (2,755.9 ft/s)
References
Edit
Ad blocker interference detected!
Wikia is a free-to-use site that makes money from advertising. We have a modified experience for viewers using ad blockers

Wikia is not accessible if you've made further modifications. Remove the custom ad blocker rule(s) and the page will load as expected.