Designed as a utility aircraft for two pilots and four passengers, was also used as a coach and air ambulance services, with capacity for two stretchers. Was intensively used by the Luftwaffe and exported to several countries, including Argentina, Austria, Bulgaaria, China, Denmark, Hungary, Netherlands, Portugal and Turkey, being manufactured under license in Brazil, thanks to an agreement between the Focke Wulf and the
Brazilian Navy
.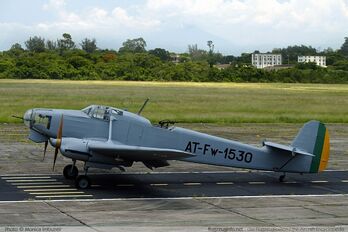 With the establishment of Air force In 1935 an aircraft for the training of new pilots was needed. The Fw 58V-1 first flew mid 1935th The version V-4 finally formed the basis for the first standard type Fw 58B the machines were built by 1350 . The second principal series Fw 58C together so were some 4,500 aircraft. The production was stopped 1942nd
The aircraft was used in several areas. Main purpose was to train pilots for night flying and the training of bombs and machine -gunners . Some machines were also in the civil Lufthansa used.
In the World War II they were also used for light transport and ambulance flights, and for surveying and weather reconnaissance flights.
Specifications
Edit
Quantity Produced: 1987, including 319 for export ( 25 + produced in Brazil)
Weight: 2,400 kg (empty) and 3,600 kg (max takeoff )
Engine: 2 Argus AC -10, 8-cylinder inverted V (240 hp)
Maximum speed: 270 mph ( sea level)
Armament: 2 MG15 machine guns of 7.92 mm ( front and rear cabin )
Crew: Standard 4 ( pilot, copilot, navigator and radio operator)
Ad blocker interference detected!
Wikia is a free-to-use site that makes money from advertising. We have a modified experience for viewers using ad blockers

Wikia is not accessible if you've made further modifications. Remove the custom ad blocker rule(s) and the page will load as expected.