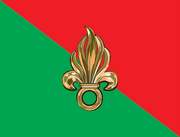 The
French Foreign Legion
(French: Légion Étrangère, L.E) is a military service wing of the
French Army
, created in the nineteenth century. She is most famous
Foreign Legion
still in operation worldwide.
Their function is to defend the interests of France to their colonies in Africa, Pacific Ocean, South America and Caribbean .
Ad blocker interference detected!
Wikia is a free-to-use site that makes money from advertising. We have a modified experience for viewers using ad blockers

Wikia is not accessible if you've made further modifications. Remove the custom ad blocker rule(s) and the page will load as expected.