The HK MG-36 is a machine gun based on the HK G-36, it is outdated and is no longer in service with any military faction.
Description
Edit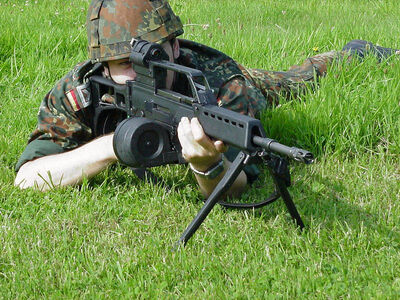 Version
light machine gun
of the
G-36
. Among the main differences are the use of a reinforced pipe, which allows withstand higher operating temperatures and longer and a bipod.
The MG-36 has power through a deposit consisting of two drums simultaneously feeding the gun. Although this deposit is also seen in other models of G-36, it is more appropriate for the version "light machine gun".
Specifications
Edit
Dimensions
Edit
Combat Features
Edit
Ad blocker interference detected!
Wikia is a free-to-use site that makes money from advertising. We have a modified experience for viewers using ad blockers

Wikia is not accessible if you've made further modifications. Remove the custom ad blocker rule(s) and the page will load as expected.