Hermann Wilhelm Göring
(or Goering); 12 January 1893 – 15 October 1946 was a German politician, military leader, and a leading member of the
Nazi Party
. He was a veteran of
World War I
as an
ace
fighter p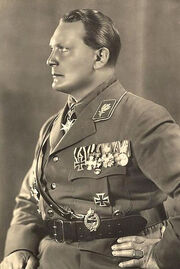 ilot, and a recipient of the coveted
Pour le Mérite
, also known as "The Blue Max". He was the last commander of
Jagdgeschwader 1
, the fighter wing once led by
Manfred von Richthofen
, "The Red Baron".
In 1935, Göring was appointed Commander-in-Chief of the Luftwaffe (German: Air Force), a position he was to hold until the final days of World War II. By mid-1940, Göring was at the peak of his power and influence. Adolf Hitler had promoted him to the rank of Reichsmarschall, making Göring senior to all other Wehrmacht commanders, and in 1941 Hitler designated him as his successor and deputy in all his offices. By 1942, with the German war effort stumbling on both fronts, Göring's standing with Hitler was very greatly reduced. Göring largely withdrew from the military and political scene to enjoy the pleasures of life as a wealthy and powerful man. After World War II, Göring was convicted of war crimes and crimes against humanity at the Nuremberg Trials. He was sentenced to death by hanging, but committed suicide by cyanide ingestion the night before he was due to be hanged.
Ad blocker interference detected!
Wikia is a free-to-use site that makes money from advertising. We have a modified experience for viewers using ad blockers

Wikia is not accessible if you've made further modifications. Remove the custom ad blocker rule(s) and the page will load as expected.