The IMBEL Fz.308 or AGLC is a sniper rifle created by IMBEL to equip the Brazilian Army.
Description
Edit
The .308 IMBEL AGLC sniper rifle (short designation Fz .308 AGLC) is bein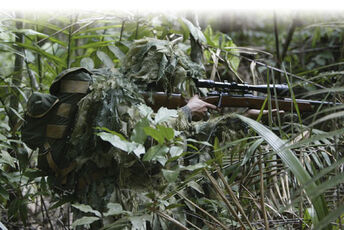 g manufactured by Brazilian IMBEL state factories, for police and military use. This is a typical post-war design, with wooden stock and Mauser-type action. Claimed accuracy with match / sniper type ammunition is 1 MOA, maximum effective range against enemy personnel is about 500–600 meters.
The .308 IMBEL AGLC sniper rifle is a manually operated, magazine fed rifle. Mauser-type action has bolt with two frontal lugs, integral five-round magazine and non-removable cold hammer forged, heavy barrel. Stock is made from wood, and can be adjusted to some extent with use of buttplate spacers. Rifle is provided with sling swivel studs on the stock. No iron sights are installed as a standard, and the receiver is drilled and tapped to accept scope mounts.
Specifications
Edit
Caliber: 7.62x51mm NATO (.308Win)
Operation: manually operated, rotating bolt
Weight: 4.7 kg less scope and bipod
Length: 1200mm
Feed Mechanism: 5 rounds integral magazine
Ad blocker interference detected!
Wikia is a free-to-use site that makes money from advertising. We have a modified experience for viewers using ad blockers

Wikia is not accessible if you've made further modifications. Remove the custom ad blocker rule(s) and the page will load as expected.