The Jordanian Armed Forces ( القوات المسلحة الأردنية ) refers to the entire armed forces of the State of Jordan.
They are fully managed by the King of Jordan (Currently Abdullah II of Jordan) . It was formed on 1 March 1956 and aims to :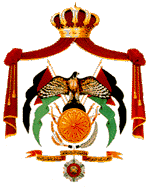 " Protecting the territory of Jordan and its borders from invasion .
"Protecting the lives and rights of the people of Jordan .
"Protecting the King of Jordan . "
The Army of Jordan is divided into seven parts :
Ad blocker interference detected!
Wikia is a free-to-use site that makes money from advertising. We have a modified experience for viewers using ad blockers

Wikia is not accessible if you've made further modifications. Remove the custom ad blocker rule(s) and the page will load as expected.