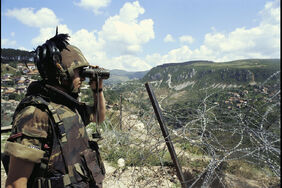 The Lithuanian Armed Forces is the military of Lithuania. It consists of five branches, and its commander-in-chief is the Lithuanian President Dalia Grybauskaitė.
There are 15,000 active personnel (2,400 of them - civilian) and there is 100,000 in reserve forces. Conscription ended in Lithuania in September 2008. Lithuania's defence system is based on the concept of "total and unconditional defence" mandated by Lithuania's national Security Strategy. The goal of Lithuania's defence policy is to prepare their society for general defence and to integrate Lithuania into Western security and defence structures. The defence ministry is responsible for combat forces, search and rescue, and intelligence operations.
Ad blocker interference detected!
Wikia is a free-to-use site that makes money from advertising. We have a modified experience for viewers using ad blockers

Wikia is not accessible if you've made further modifications. Remove the custom ad blocker rule(s) and the page will load as expected.