The Mikoyan Mig-29K Fulcrum-D is a naval variant of the Mikoyan MiG-29 Fulcrum made by mikoyan, it will operate alongside the Sukhoi Su-33 Sea Flanker in the Admiral Kuznetnov Aircraft Carrier. The Mig-29K will also operate in the Kiev Class Aircraft Carriers brought from Russia and under modernization to operate in the Indian Navy.
Description
Edit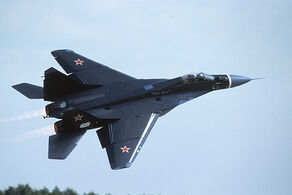 The naval version of the
MiG-29
was first studied in 1984 and was originally designed to operate on aircraft carriers that the Soviet Union had planned in the late 80's.
Russia finally opted for the more capable Su-33 Sea Flanker to operate from its sole remaining aircraft carrier, while India is practically the only customer of the aircraft, and operates it on board the future aircraft carrier Kiev class purchased from 2nd hand to Russia and retired prior to delivery to the Indian Navy. The latest version of MiG-29K is a derivative of the MiG-29M Fulcrum-E with the latest radar and avionics. It will be very similar to the last known version of the MiG-29, the MiG-29 Fulcrum F, also known as MiG-35. There is a version called two-seat MiG-29KUB.
Operation in Russia
Edit
The Russian Navy expects to buy MiG-29K for a single aircraft carrier Admiral Kuznetsov. The newspaper Bulletin Reports reported in 2009 that an informed source in the Defense Ministry of Russia noted that the contract may be concluded in 2011. Information was confirmed by the general designer of one of the defense enterprises, which produces aggregates for these aircraft, while the Mikoyan corporation refrained from comment.
According to a companion publication to the Ministry of Defense, the Navy has a fl
eet of 19 carrier-based fighters Su-33, a resource which will expire by 2015. Production of new
Su-33s
is possible but not cost-effective for small volumes. At the same time, the MiG-29K in this respect are more convenient, because the
Indian Navy
has already ordered the aircraft. Konstantin Makienko noted it cheapens the series and saves on development. India has paid $730 million for the development and delivery of 16 fighters, while 24 planes for Russia's fleet would cost about $1 billion.
Operation in India
Edit
The Indian Navy ordered twenty units of India's MiG-29K to operate from the future Vikramaditya Aircraft Carrier, which will operate 16 aircraft on board. However, problems with the weak American dollar have caused problems with the recovery program of the aircraft carrier, which is closely related to the acquisition of aircraft. However it is not predictable any cancellation, while the amount of aircraft to be acquired might be negotiated.
Operators
Edit
India
Indian Navy - Naval Air Arm has 45 MiG-29K/KUB aircraft on order as of March 2010. The naval air arm had 6 in inventory as of July 2010.
Russia
Specifications
Edit
General Characteristics
Edit
Crew: One (the Mig-29KUB have two pilots)
Length: 17.3 m (57.76 ft)
Wingspan: 11.99 m (39.34 ft)
Height: 4.40 m (14.44 ft)
Wing area: 43 m² (462 ft²)
Loaded weight: 18,550 kg (40,900 lb)
Powerplant: 2× Klimov RD-33MK afterburning turbofans, 9,000 kgf (88.3 kN, 19,800 lbf) each
Performance
Edit
Maximum speed: Mach 2+ (2,200 km/h, 1,370 mph) / At low altitude: Mach 1.2 (1,400 km/h, 870 mph)
Ferry range: 2,000 km (1,240 mi) / 3,000 km (1,860 mi) with 3 drop tanks
Service ceiling: 17,500 m (57,400 ft)
Rate of climb: initial 330 m/s, average 109 m/s 0–6000 m (65,000 ft/min)
Wing loading: 442 kg/m² (90.5 lb/ft²)
Thrust/weight: 0.97
1 x 30 mm GSh-30-1 cannon with 100 rounds
9 hardpoints: 8 x under-wing, 1 x centerline for up to 5,500 kg (12,125 lb) of weapons and fuel tanks including
Air to air missiles
Eight air-to-air missiles — a mix of infrared homing, semi-active radar homing (SARH) and Active radar homing.
AA-11 Archer infrared-guided short range AAM
AA-10 Alamo semi-active radar homing medium range AAM, Infrared homing medium range AAM,
AA-12 Adder active radar homing medium range AAM
Air to surface missiles
Kh-25ML semi-active laser guidance with tandem warhead,
Kh-29T TV-guided air-to-surface missile,
Kh-35U long-range active radar air-to-surface missile
Anti-radiation missile
Anti-ship missile
Kh-31A medium range sea-skimming Anti ship missile,
Kh-35 long-range active radar homing head Anti ship missile
Bombs
FAB 500-M62 General-purpose bomb,
FAB-1000, (1,500 kg / 3,300 lb),
KAB-500KR electro-optical TV-guided fire and forget bomb
Others
Flares/Infrared decoys dispenser pod and chaff pod or
Electronic countermeasures (ECM) pod or
Targeting pods or
Drop tanks for ferry flight or extended range/loitering time or
UPAZ refueling unit for aerial refueling system (ARS).
Zhuk-ME radar
Infrared search and track system
SPO-15 Beryoza RWR (Radar warning receiver)
Fulcrum/Flanker Family
Edit
Related Development
Edit