The Mikoyan MiG-31 Foxhound is a supersonic interceptor fighter designed in 1975 to replace the Mikoyan MiG-25 Foxbat.
Description
Edit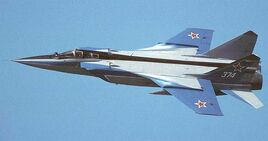 Despite being labeled as an 'improved Foxbat' in reality the MiG-31 is a completely new aircraft, with greater capability than the MiG-25; although its maximum speed is reduced to keep from red lining and potentially damaging its engines. The development of the MiG-31 began in the mid-1970s and by September 16, 1975 the first prototype flew.It was initially designed to intercept the Mach 3 capable
XB-70 Valkyrie
and other strategic bombers before the can deliver their payload.
The West first became aware of the MiG-31 when Viktor Belenko mentioned a 'Super Foxbat' while being debriefed following his defection in 1976.
Operators
Edit
Current Operators
Edit
Kazakhstan
Russia
Possible Operators
Edit
Syria
Syrian Air Force ordered eight MiG-31E aircraft in 2007. However, the order has been suspended in May 2009 reportedly either due to Israeli pressure or lack of Syrian funds.
Former operators
Edit
Soviet Union
Specifications
Edit
General Characteristics
Edit
Crew: Two (pilot and weapons system officer)
Length: 22.69 m (74 ft 5 in)
Wingspan: 13.46 m (44 ft 2 in)
Height: 6.15 m (20 ft 2 in)
Wing area: 61.6 m² (663 ft²)
Empty weight: 21,820 kg (48,100 lb)
Loaded weight: 41,000 kg (90,400 lb)
Max takeoff weight: 46,200 kg (101,900 lb)
Powerplant: 2× Soloviev D-30F6 afterburning turbofans

Dry thrust: 93 kN (20,900 lbf) each
Thrust with afterburner: 152 kN (34,172 lbf) each
Performance
Edit
Maximum speed:

High altitude: Mach 2.83 (3,000 km/h, 1,860 mph)
Low altitude: Mach 1.2 (1,500 km/h, 930 mph)

Combat radius: 720 km (450 mi) at Mach 2.35
Ferry range: 3,300 km (2,050 mi)
Service ceiling: 20,600 m (67,600 ft)
Rate of climb: 208 m/s (41,000 ft/min)
Wing loading: 665 kg/m² (136 lb/ft²)
Thrust/weight: 0.85
Maximum g-load: 5 g
1× GSh-6-23 23 mm cannon with 260 rounds.
Fuselage recesses for 4× R-33 Amos or (for MiG-31M/BM only) ×6 R-37 Arrow long-range air-to-air missiles.
Four underwing pylons for a combination of:
two R-40 Acrid medium-range missiles, and
4× R-60 Aphid or
4× R-73 Archer short-range IR missiles, or
4× R-77 Adder medium-range missiles.
Some aircraft are equipped to launch the Kh-31 Krypton and Kh-58 Kilter anti-radiation missiles in the suppression of enemy air defenses (SEAD) role.