The Mikoyan MiG-35 (NATO codename Fulcrum-F) Is a Fighter developed from the MIG-29 M/M2 and MiG-29K/KUB. Russia has officially unveiled the MiG-35 at Aero India 2007 airshow in Bangalore. It was reported that the MiG-35 made its way Moscow to Bangalore in less than three hours, assisted by a refueling along the way and flying at supersonic speeds.
Description
Edit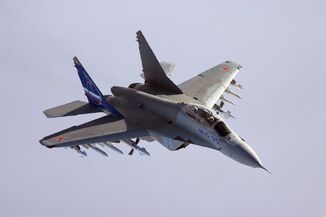 The Mikoyan MiG-35 (Микоян МиГ-35 in Russian and "Fulcrum-F" in NATO) is a maturing technology and the MiG-29M/M2 MiG-29K/KUB. Classified as a fighter from generation 4.5, the MiG-35 is now considered a medium-weight aircraft because its maximum takeoff weight has increased 30 percent.
Totally upgraded avionics and new weapons systems and sensors, including a new AESA radar and Optical Locator System (OLS), eases the dependency on aircraft control intercept ground-based (GCI), and let you make multiple missions. The aircraft is being marketed under the designation MiG-35 (single seat) and MiG-35D (two seat) for export. His first international presentation occurred during the Aero India 2007.
Specifications
Edit
General characteristics
Edit
Crew: one or two
Length: 19 m (62 ft 4 in)
Wingspan: 15 m (49 ft 3 in)
Height: 6 m (19 ft 8 in)
Empty weight: 11,000 kg (24,250 lb)
Loaded weight: 17,500 kg (38,600 lb)
Max takeoff weight: 29,700 kg (65,500 lb)
Powerplant: 2× Klimov RD-33MK afterburning turbofans

Dry thrust: 5,400 kgf, 53.0 kN (11,900 lbf) each
Thrust with afterburner: 9,000 kgf, 88.3 kN (19,800 lbf) each
Performance
Edit
Maximum speed: Mach 2.25 (2,400 km/h, 1,491 mph) at altitude
Range: 2,000 km (1,240 mi)
Ferry range: 3,100 km (1,930 mi) with 3 external fuel tanks
Service ceiling: 17,500 m (57,400 ft)
Rate of climb: 330 m/s (65,000 ft/min)
Thrust/weight: 1.03
Guns: 1× 30 mm GSh-30-1 cannon, 150 rounds
Hardpoints: 9 total (8× under-wing, 1× centre-line) with a capacity of over 6,500 kg external fuel and ordnance
Missiles:

Air-to-air:
Air-to-surface:

Bombs:

Guided:

KAB-500L: 500 kg laser-guided bomb
KAB-500T: 500 kg TV-guided bomb

Unguided:

FAB-250: 250 kg bomb
FAB-500: 500 kg bomb
ZAB-500: fuel-air explosive Bomb
Phazotron Zhuk AE AESA radar (or other members of the Zhuk radar family)
NII PP Optical Locator System
Fulcrum/Flanker Family
Edit
Related Improvement
Edit
Ad blocker interference detected!
Wikia is a free-to-use site that makes money from advertising. We have a modified experience for viewers using ad blockers

Wikia is not accessible if you've made further modifications. Remove the custom ad blocker rule(s) and the page will load as expected.