The Nanchang CJ-7 is a basig trainer of the Chinese Air Force, operational by more than four decades, Nanchang (Now Hongdu Aircraft Industry Group) reported that they are developing a replacement for the CJ-6 but nothing is confirmed yet.
Descripition
Edit
The CJ-6 (Chuji Jiaolian-6 or ChuJiao-6) is the basic trainer aircraft designed and built by Nanchang Aircraft Factory (now Hongdu Aircraft Industry Group). The aircraft is use by the PLAAF and PLANAF for basic flight training. Although the aircraft has been flying for over four decades, it still provides reliable performance and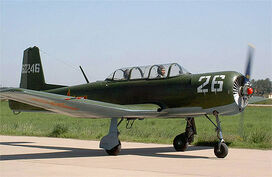 may well remain in service for some years to come. Nanchang is reportedly developing a replacement for the CJ-6 but this cannot be confirmed.
Unlike most people believed, the Nanchang CJ-6 is not a direct copy of the Soviet Yakovlev Yak-18A basic trainer. In fact, the CJ-6 was developed from the CJ-5 (Chinese copy of the Yak-18) basic trainer aircraft which was also built by Nanchang. Most notably, the CJ-6 has an aluminium alloy structure instead of the steel tube structure of the Yak design. China obtained the Yak-18 technology in the early 1950s and its Chinese copy CJ-5 was built locally under license in Nanchang Aircraft Factory (now Hongdu) between 1954 and 1958. The design showed deficiencies for jet pilot training which led the Chinese to independently revise the basic Yak-18 design to feature a retractable undercarriage, with the main gear folding inward toward the fuselage, and the nose wheel retracting backward into the fuselage. The revised design was given a new designation CJ-6.
The wings of the CJ-6 were revised to have prominent dihedral, but, like the Soviet
Yak-18
A redesign, the CJ-6 retained the 145 hp M-11ER radial engine with similarly disappointing results when it first flew in 1958. Revised power, in the form of an Ivchenko AI-14R engine, didn't completely solve the problem either, which called for further redesign of the aircraft. Finally, in 1961, an improved CJ-6A gained approval and was produced from 1962 until 1965, using a 285 hp Quzhou Huosai-6A (Chinese copy of the AI-14R) piston engine. More than 1,800 CJ-6As were produced, including those exported to nations such as Albania, Bangladesh, Cambodia, Tanzania and Zambia under the designation PT-6. An armed version, the CJ-6B, w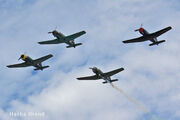 as produced between 1964 and 1966, possibly equipped with a 300 hp HS-6D engine.
The CJ-6 is equipped with basic radio communication and navigation equipment, and is powered by a 285 hp Quzhou Huosai-6A (HS-6A) radial piston engine. More than 2,000 examples are believed to have been produced, with tens of thousands PLA student pilots trained on the aircraft. Many CJ-6s were also exported to Western countries for general aviation and leisure flight. Both the Yak-18 and the Nanchang CJ-6 have become popular with pilots worldwide who appreciate the sturdy qualities, reliability and personality of these old warbirds.
CJ-6: First flew in August 1958. Developed from the CJ-5, with 145 hp M-11ER engine. The basic variant didn't enter production
CJ-6 Production Variant: The batch production variant is fitted with a Soviet AI-14R engine
CJ-6A: First flew in 1961. Powered by an indigenous HS-6A engine, this is the most popular variant with over 10,000 examples built
CJ-6B: First flew in 1964. Armed variant carrying two 7.62mm guns, with only 10 prototypes built
Haiyan (Sea Swallow): First flew on 17 August 1985. General aviation variant for agriculture and leisure flight
Operators
Edit
Albania
Bangladesh
Cambodia
Ecuador
People's Republic of China
North Korea
Laos
Sri Lanka
Tanzania
Zambia
Specifications
Edit
General Characteristics
Edit
Length: 8.46 m (27 ft 9 in)
Wingspan: 10.22 m (33 ft 6 in)
Height: 3.3 m (10 ft 8 in)
Empty weight: 1,095 kg (2,414 lb)
Max takeoff weight: 1,400 kg (3,086 lb)
Powerplant: 1× Zhouzhou (SMPMC) HS6A (different variants uses different types) radial engine, 213 kW (285 hp)
Performance
Edit
Maximum speed: 300 km/h (160 kts, 185 mph)
Range: 700 km (372 nm, 425 mi)
Service ceiling: >6,250+ m ()
2 x 7.62mm machine guns
Weapons stations and hardpoints under the wings
Bombs
Rocket launchers
Ad blocker interference detected!
Wikia is a free-to-use site that makes money from advertising. We have a modified experience for viewers using ad blockers

Wikia is not accessible if you've made further modifications. Remove the custom ad blocker rule(s) and the page will load as expected.