The RBS 23 BAMSE is a system of air defense of medium-range developed by the Swedish Saab. The RBS 23 have a Range of 15 km.
Description
Edit
Sweden has shown a fertile defense industries, notably aerospace, where in addition to good military aircraft also has modern and good missiles. One of these is the excellent missile air defense system RBS-23 BAMSE, developed by Saab Bofors and Ericsson. This system allows a medium-range air defense capable of attacking targets with precision and agility small and fast at distances of 15 km and at an altitude of 15,000 feet. To get an idea of the efficiency of this system, even anti -radar missiles and glide bombs can be destroyed by Bamse . The propulsion of Bamse is made by a booster that imposes a violent acceleration and a motor secondary solid fuel that keeps the high speed at Mach 3 (3,200 mph ). This ensures the speed trap.
A battery system Bamse comprises a monitoring center equipped with a three-dimensional Ericsson Giraffe AMB radar with a range up to 100 km and three control centers missiles. The Giraffe radar antenna is positioned on a mast 13 meters high. The monitoring center has the ability to manage up to four control centers and missile to track over 100 ta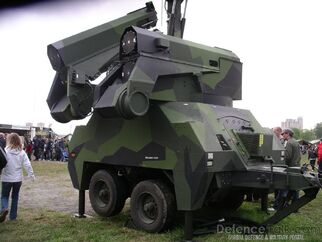 rgets simultaneously. The monitoring center is positioned at a distance of 20 km from the centers of missile control and communication between them can be made by cable or by radio frequency. The control center also has its own missile fire control radar, whose range reaches 30 km and an infrared detection system IRST for support in acquiring the target. A system identification friend foe (IFF) is also part of this set . Each control center missiles can be equipped with up to 6 RBS-23 Bamse ready to fire and recharging those six missiles can be done in less than four minutes, ensuring speed to combat the condition .
The guiding Bamse is the type of CLOS (command to line of sight ) with support from the radar. With this system the missile needs to be pointed right toward the target and released . During the course against your target, get updates Bams positioning of the target coming from the control center with its missile systems IRST, radar, fire control and radar surveillance center, giving the updated parameters of the positioning of target.
The Bams is in operation in Sweden and Saab intends to sell this modern system to 10 countries. Among the nations that have shown interest in System Bamse are Australia, Brazil, India and Pakistan.
Specifications
Edit
Speed: 3200 km / h ( mach 3).
Range: 15 km
Altitude 15000 m
Length: 2.6 m.
Weight: 80 kg .
Launchers: Trailer with 4 launch tubes
Guiding: Command line of sight ( CLOS ).
Ad blocker interference detected!
Wikia is a free-to-use site that makes money from advertising. We have a modified experience for viewers using ad blockers

Wikia is not accessible if you've made further modifications. Remove the custom ad blocker rule(s) and the page will load as expected.