The RG-34 Iguana is a South African 4X4 mine-resistant armored vehicle made by the IADSA with help of the Belgian Sabiex. In 2009 the BAE Systems obtained the rights to develop and manufacture the vehicle.
Description
Edit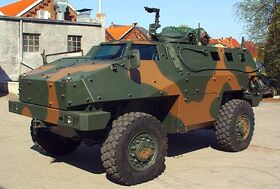 Designed by the Belgium Sabiex the 'Iguana' is a tactical vehicle with a load capacity of up to 2.5 tonnes and can carry up to eight soldiers, depending on the version.
The car has front engine to the right and only has one port. In addition to the hatch on top.
The vehicle was designed to use most of the systems and components available in the automobile industry with the aim of reducing costs. Its armour protects occupants against basic small arms fire. Additional shielding may be used, allowing for increased protection, however losing the amphibious capability of the base version because of the inevitable weight gain.
Although designed by the company Sabiex the concept was acquired by BAE Systems in June 2009, becoming part of the line from BAE Systems, manufactured by BAE Systems South Africa.
Modular Armor
Edit
This vehicle can use modular armor.
This type of armor is the ability to adapt, as required, additional modules of armor to the vehicle, which can be applied as deemed necessary by the conditions on the ground.
The modules of additional shielding can be applied even on the battlefield or where the vehicles are in operation, no need to remove to a workshop. The armor is applied by tightening the additional modules to bindagem base.
This type of shielding, both can be adapted to light armored vehicles on wheels, as the heavy armored vehicles.
The characteristics of modular armor change depending on the technologies used in their manufacture, but the concept of modular armor is always the same and its application to vehicles is also identical.
Specifications
Edit
General Characteristics
Edit
Performance
Edit
Engine: Mercedes Intercooler
Fuel Capacity: 180 liters
Operational Range: 160 km
Ad blocker interference detected!
Wikia is a free-to-use site that makes money from advertising. We have a modified experience for viewers using ad blockers

Wikia is not accessible if you've made further modifications. Remove the custom ad blocker rule(s) and the page will load as expected.