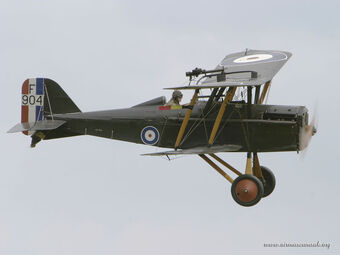 Contemporary of the Sopwith Camel, dispute it with the title of most successful British fighter of WW1 . Very strong and fast, had, however, some reliability problems in the engine, which delayed its delivery to the squadrons .
History of the S.E.5a
Specifications
Edit
Model: S.E.5a
Wingspan: 8.12 m
Length: 6.38 m
Height: 2.9 m
Weight: 696 kg ( empty) and 930 ( loaded)
Engine: Hispano -Suiza 8 ( 200-240 hp)
Cruising speed: n / a
Maximum speed: 212 km / h
Maximum ceiling: 5790 m
Normal Range: 402 km
Armament: 2 machine guns of 7.7 mm ( 0.303 " ) (on the engine and a support Foster on the upper wing )
Ad blocker interference detected!
Wikia is a free-to-use site that makes money from advertising. We have a modified experience for viewers using ad blockers

Wikia is not accessible if you've made further modifications. Remove the custom ad blocker rule(s) and the page will load as expected.