Featuring the biggest anti-tank cannon already installed in any vehicle, the Sd.Kfz 186 Jagdtiger was developed from the chassis of the Tiger II with a fixed structure in place of the tower. About 85 vehicles were produced until the war ended, Manning only two units. The most successful action occurred in Neustadt, in March 1945, where three Jagdtigers destroyed 25 M4 Shermans and M10 without loss, although achieved. Despite their power, however, was extremely vulnerable due to their size and slowness, and subject to frequent breakdowns.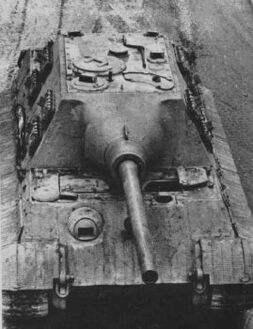 the Jagdtiger was developed after the troops demanded a very heavy tank destroyer, which was to be armed with a 12.8-inch cannon. On 22 February 1943 were the Krupp Company, Division Artillery Design in Essen, and the company Henschel and son in Kassel from the army high command in charge of the development. It took over Krupp the provision of the L/55 12.8 cm-tank gun and Henschel the development of the structure and Chassis. Henschel presented on 12 Before April 1943, two designs - one with rear and one with forward engine. a costly redesign and produce the most cost effective, decided the Army Weapons on 5 May 1943, the chassis of the
Tiger II
to use it, that was the ideal base for Henschel's design with the rear engine to be located. The first scale wooden model called "Heavy Tank Destroyer" with 12.8 cm tank gun L/55 on Tiger II chassis was Adolf Hitler on 12 October 1943 on the Military training area Arys presented the first two prototypes in February 1944 for testing at the Army Ordnance Department in Kummersdorf delivered. A vehicle was given a drive from Porsche with eight 700- mm wheels and the other a drive by Henschel with nine 800mm wheels. The drive Porsche's space-saving produce to and easier and cheaper, even the tank almost 2000 pounds lighter. However, it was not as robust as that of Henschel, so were only eleven cars with Porsche - chassis built.
With a total weight of 70-72 tons, a 12.8 -inch gun and a massive Plating of up to 250 mm was of those tanks a true giant. The hunting tiger was with the already from the King Tiger known Engine Maybach HL230 P30 equipped was, and underpowered so greatly . Nevertheless, it reached a maximum speed of 38 km / h on the road and 17 km / h off . The fuel consumption was very high - the 865 l capacity sufficient for about 170 km on the road and about 120 km in the area at cruising speed.
As Jagdpanzer provided he was not given a rotating tower, Gun was to be sure to pivot about 10 degrees right and left, and the entire tank was therefore to the target directed. There are no reports that the Front Armour penetrate ever in war used by an enemy grenade, were mostly jagdtiger aircraft or infantry off or had to be abandoned by the crews.
When the hunt tiger in the fall of 1944 went into mass production, he might, for example, filter down the armor of a Sherman to about three kilometers from any angle. Its front armor of 250 mm was virtually impenetrable, and the 12.8 cm gun outstanding in their achievements. But the weaknesses, such as the enormous weight, poor off-road capability and size weighed far heavier than the strengths. The rate of fire left much to be desired, because the 12.8 cm-Grenades so difficult to reload, because the Jagdtiger had that projectile and propellant are loaded separately.
Specifications
Edit
Garrison: 6 men (commander, gunner, two loader, driver and radio operator/gunner)
Length: 10.65 m (with cannon) and 7.8 m (Henschel without gun)
Width: 3.63 m (Henschel) or 3.59 (Porsche)
Height: 2.82 m (Heschel) or 2.92 m (Porsche)
Weight: 70,600 kg ( Henschel ) or 68,800 kg (Porsche)
Motor: Maybach HL 230 P 30 petrol, 12-cylinder, water cooled (700 hp)
Speed: 38 km / h (road) and 17 kph (off- road)
Range: 120–170 km (highway) and 80–120 km (off- road)
Performance: 1.65 m (ford), 3 m (trench), 0.80 m (step) and 35 (slope)
Main Armament: Gun Pak 44 of 128 mm/L55 (elevation of -7.5 ° to +15 °)
Ammunition: 38-40 grenades 128 mm and 3,300 cartridges of 7.92 mm
Shield Hoof: 100–150 mm (front), 80 mm (sides and reverse), 40 mm (top ) and 25–40 mm (floor)
Shielding Superstructure: 250 mm (front), 80mm (side and aft) and 40 mm (top)
Ad blocker interference detected!
Wikia is a free-to-use site that makes money from advertising. We have a modified experience for viewers using ad blockers

Wikia is not accessible if you've made further modifications. Remove the custom ad blocker rule(s) and the page will load as expected.