The Spectre M4 is an Italian submachine gun manufactured by the company SITES
Techinical Description
Edit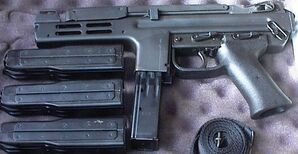 The Spectre SMG was developed by Italian company SITES in the mid-1980s. Spectre was designed primarily for close combat, anti-terror or police operations that require compact size, instant firepower at the short ranges and safety of operations.
Spectre is a recoil operated, automatic firearm. It fires from the closed bolt, an is a hammer-fired. The trigger group is more similar to handguns, than to SMG - it is Double Action without manual safety but with decocker. So, Spectre could be carried with loaded chamber and hammer down and then fired immediately simply by pressing the trigger. The receiver of the Spectre is made from stamped steel. The bolt is so designed that it acts as an air pump to push air through barrel shroud and provide additional cooling for the barrel and action (very useful when firing long bursts). Spectre has top-folding stock and polymer forward handle. It uses high-capacity, four column magazines for increased firepower
Specifications
Edit
Weight: 2,9 kg
Length (stock closed/open): 350 / 580 mm
Barrel length: 130 mm
Rate of fire: 850 rounds per minute
Magazine capacity: 30 or 50 rounds
Effective range: 50 meters
Ad blocker interference detected!
Wikia is a free-to-use site that makes money from advertising. We have a modified experience for viewers using ad blockers

Wikia is not accessible if you've made further modifications. Remove the custom ad blocker rule(s) and the page will load as expected.