The Sphinx 3000 are semi-automatic pistols created in 2003 by the Sphinx Systems ltd to sporting and law enforcement but military operators also use this pistol.
Description
Edit
Sphinx pistols are made in Switzerland, by the Sphinx Systems Ltd company. The Sphinx 3000 pistols are direct descendants of the already famous
Sphinx 2000
pistols. The Sphinx 3000 pistols were introduced in 2003, and are available in various versions and calibers, for sport (IPSC and IDPA), self-defense and security / police services. Sphinx 3000 pistols offer extremely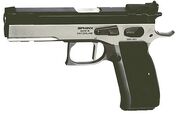 high workmanship and reliability, top class accuracy and reliability, almost indestructible all-steel design. These pistols are by no means cheap, but offer probably the best "out of the box" quality money can buy. More models of this pistol is available for sport shooters, including models specially adapted for various IPSC and IDPA classes. These models can be factory fitted with extended magazines, red-dot scope mounts, sport-tuned single action triggers and other options. According to the sources at Sphinx company, the
.45ACP
version of the Sphinx 3000 is already made and put in law enforcement use. Sphinx 3000 is a short recoil operated, locked breech pistol. The barrel is operated using a Browning cam system, and is locked to slide by single lug via large ejection port. Frame and slide are made from steel for maximum rigidity. The frame is completely machined from two steel blocks and then permanently assembled. Trigger guard is shaped for comfortable two-hand hold. Frame on all Sphinx 3000 pistols has an integral accessory rail under the barrel. Sphinx 3000 pistols feature a Double Action trigger with external hammer, but can be fitted (on request) with Single action trigger systems. Various models can be fitted with standard safety which can lock the hammer either in cocked or uncocked position, or with the decock-only lever. The safety or decocker levers are ambidextrous and provided on both sides of the frame. The slide stop lever is also installed on both sides of the frame. Tactical models are similar in design but have shortened slide and barrel, and can be ordered with SA, DA or DAO triggers. Tactical models are fitted with fixed sights with white inserts; Other models are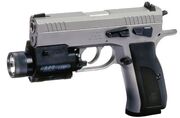 usually fitted with adjustable sights. In any case, both front and rear sight are dovetailed into the slide, and can be easily replaced if required.
Operators
Edit
Specifications
Edit
Calibers
9x19mm Parabellum; 9x21mm IMI; .40S&W
Weight unloaded
~ 1040 g
~ 950 g
Length
215 mm
195 mm
Barrel length
115 mm
95 mm
Capacity
16 rounds (9mm) or 12 rounds (.40)
Specifications
Edit
Ad blocker interference detected!
Wikia is a free-to-use site that makes money from advertising. We have a modified experience for viewers using ad blockers

Wikia is not accessible if you've made further modifications. Remove the custom ad blocker rule(s) and the page will load as expected.