Telesforo de la Crux Trinidad
[5]
(November 25, 1890 – May 8, 1968) was a Filipino
[6]
fireman 2nd class in the
United States Navy
who received the Medal of Honor for actions, in Mexican waters
[7]
near
La Paz
,
[8]
on board the
USS San Diego
in peacetime.
[9]
He was the second service member, and first and so far the only sailor of Asian descent to receive the award.
[1]
[10]
Medal of Honor citation
Edit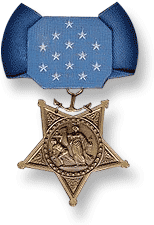 Rank and organization: Fireman Second Class, U.S. Navy. Born: 25 November 1890, New Washington Capiz, Philippine Islands. Accredited to: Philippine Islands. G.O. No.: 142, 1 April 1915.

Citation:

For extraordinary heroism in the line of his profession at the time of the boiler explosion on board the U.S.S. San Diego, 21 January 1915. Trinidad was driven out of fireroom No. 2 by the explosion, but at once returned and picked up R.E. Daly, fireman, second class, whom he saw to be injured, and proceeded to bring him out. While coming into No. 4 fireroom, Trinidad was just in time to catch the explosion in No. 3 fireroom, but without consideration for his own safety, passed Daly on and then assisted in rescuing another injured man from No. 3 fireroom. Trinidad was himself burned about the face by the blast from the explosion in No. 3 fireroom.
[11]
References
Edit