Hungarian Tanks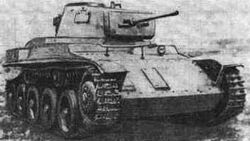 II. World War archive photograph of
Toldi
General characteristics
</tr>
Length:
4.75 m
Width:
2.14 m
Height:
1.87 m
Weight:
8.5 ton (I), 9.3 t(IIa)
Speed:
47 km/h (road)
-(off-road)
Range:
200 km
Primary armament:
20 mm gun (Toldi I and II)
40 mm gun (Toldi IIa and III)
Secondary armament:
1 x 8 mm machine gun
Maximum armour:
20 mm (I), 35 mm (II)
Power plant:
155 hp (116 kW)
Crew:
3
The Toldi was the Hungarian light tank, based on the Swedish Landsverk L-60B tank. It was named after the 14th century Hungarian knight Miklós Toldi.
Production history
Edit
The 38M Toldi was produced and developed under license from Swedish company AB Landsverk between 1939 and 1942. Only 202 were produced.
Toldi I (k.hk. A20) - first variant armed with 20 mm gun, 80 made.
Toldi II (k.hk. B20) - variant with thicker front armour, 110 made.
Toldi IIa (k.hk. B40) - modification developed in 1942, armed with 40 mm gun - 80 tanks of earlier variant were rearmed this way.
Toldi III (k.hk. C40) - improved variant, only 12 made.
Combat History
Edit
Toldi tanks entered Hungarian service in 1940. They first saw action with the German Army against Yugoslavia in 1941.
These tanks were mostly used against the USSR between 1941-1944. Because of their light armour, armament and good communications equipment, they were mostly used for reconnaissance. The design was no match against Soviet T-34 medium tanks.
References
Edit
External links
Edit
Ad blocker interference detected!
Wikia is a free-to-use site that makes money from advertising. We have a modified experience for viewers using ad blockers

Wikia is not accessible if you've made further modifications. Remove the custom ad blocker rule(s) and the page will load as expected.