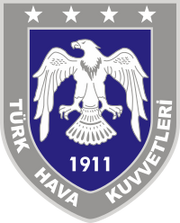 The
Turkish Air Force
is a branch of the
Turkish Armed Forces
. It's commander is General Hasan Aksay.
It is one of the oldest air forces in the world, and with a current inventory of more than 930 aircraft, ranks 3rd in NATO in terms of fleet size, behind the USAF and RAF. Supported by the TuAF's long-range in-flight refueling capability, the fighter jets of the Turkish Air Force can participate in international operations and exercises on all continents of the world.
Ad blocker interference detected!
Wikia is a free-to-use site that makes money from advertising. We have a modified experience for viewers using ad blockers

Wikia is not accessible if you've made further modifications. Remove the custom ad blocker rule(s) and the page will load as expected.