United States Air Force
Comments

0
1,552pages on
this wiki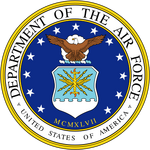 The United States Air Force (abbreviated USAF) is the air branch of the United States Military. It was split from the United States Army in 1947, where it had previously been known as the United States Army Air Corps (USAAC).
The USAF is the largest and most technologically advanced air force in the world, with over 6,000 aircraft in service and over 300,000 personnel on active duty, plus another 300,000 in the reserves and Air National Guard, and over 150,000 civilian personnel.
Due to budget constraints, the USAF intends to reduce the service by 40,000 full time positions by 2011. Also by then the equivalent of one years new recruits will not have been recruited. The current size of the active-duty force is roughly 70% of that of the USAF at the end of the first Gulf War in 1991.
The Department of the Air Force is headed by the civilian Secretary of the Air Force who heads administrative affairs. The Department of the Air Force is a division of the United States Department of Defense which is headed by the United States Secretary of Defense. The highest ranking military officer in the department is the Chief of Staff of the Air Force.
Not all of the United States' military combat aircraft are operated by the USAF. The
US Army
operates its own helicopters, mostly for support of ground combatants; it as well maintains a small fleet of fixed wing aircraft (mostly
Unmanned Aerial Vehicles
). The
US Navy
is responsible for the aircraft operating on its aircraft carriers and Naval air stations, and the
US Marine Corps
operates its own combat and transport aircraft.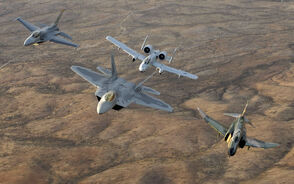 The
US Coast Guard
also maintains transport and search-and-rescue aircraft, which may be used in a combat and law enforcement role. All branches of the US military operate helicopters.