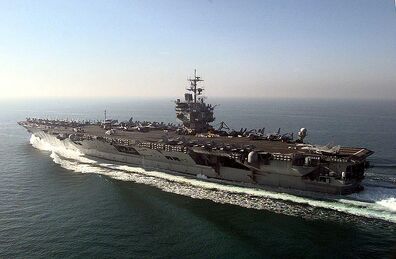 USS Enterprise (CVN-65)
was the first nuclear aircraft carrier to join the
U.S. Navy
fleet, was also the first to be built in the world with this type of propulsion. With its 342.3 m is the largest military boat in operation worldwide. The ship belongs to the Class of same name.
Its decommissioning is scheduled for 2014-2015, when it will be replaced by USS Gerald R. Ford (CVN-78) which is under construction.
The ship was built by newport news shipbuilding Co. and started its activity in November 25 of 1961.
The original plan envisaged the construction of six ships in Enterprise Class, Only the CVN-65 was completed. The cancellation of the other was motivated by the high costs.
Aircrafts
Edit
First squad F-14 (A / B / D)
3 squads F/A-18 (C / E / F)
4 EA-6B Prowler
4 E-2C Hawkeyes
6 SH-60F (Helicopters)
4 HH-60H (Helicopters)
3350 (vessel)
2480 (aviation)
5830 (total)
Ad blocker interference detected!
Wikia is a free-to-use site that makes money from advertising. We have a modified experience for viewers using ad blockers

Wikia is not accessible if you've made further modifications. Remove the custom ad blocker rule(s) and the page will load as expected.