United States Army
Comments

0
168,454pages on
this wiki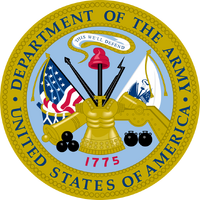 The United States Army is the premier ground force for the United States of America. It is part of the US Military and is the second largest army in the world with over 1,000,000 soldiers.
The History of the United States Army is rather short in comparison to ancient nations, but is distinguished.
Beginnings
Edit
The United States Army came out of the Continental Army founded on June 14, 1775 for the Revolutionary War. Led by Gen. George Washington, they led a campaign against the British Army, eventually defeating them at the battle of Yorktown in 1781. After the Revolutionary War, the United States disbanded the Continental Army, but the need for a standing army still prevailed in the conflicts against the Native Americans, which formed the Legion of the United States.
Structure
Edit
The United States Army is divided into the Regular Army, the Army Reserve, and the Army National Guard.  The regular army is a full-time, professional force.  The Army Reserve go through the same training as the regular army but only drill one weekend a month and two weeks in the summer as opposed to the daily activities of the regular army, and must be activated in order to serve military duties outside of this training.  The Army Reserves fill non-combat, support roles.  The Army National Guard is similar to the Army Reserves in the sense that they train one weekend a month and two weeks a year, but they fall under the jurisdiction of the governor of their individual state rather than the federal government.  Unlike Army Reserve units, Army National Guard units have both combat and support units.  Where individual Reserve soldiers may be activated, Army National Guard units must be called to action instead of individual members, though National Guardsmen may volunteer for duty on an individual basis.
Wars and Conflicts
Edit
Structure
Edit